Giorgio Gribaudo
Professor
SSD: BIO/19 - general microbiology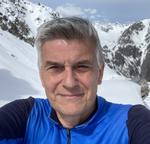 Contacts
0116704648
3394398337
0116704508
Dipartimento di Scienze della Vita e Biologia dei Sistemi - Laboratorio di Microbiologia e Virologia (LMV) (https://lmvunito.wixsite.com/website) - Via Accademia Albertina 13
10123 Torino
At
Department of Life Sciences and Systems Biology
Dipartimento di Scienze della Vita e Biologia dei Sistemi
Cellular and Molecular Biology
Corso di laurea in Scienze Biologiche (L-13)
Dottorato in Scienze Farmaceutiche e Biomolecolari
Curriculum vitae
Curriculum Vitae (55.5 KB)
Research topics
Giorgio Gribaudo is a Molecular Virologist and Head of the Laboratory of Microbiology and Virology (LMV) at the Department of Life Sciences and systems Biology.
His main fields of research of interest are:
- Cell and Molecular Biology of Herpesviruses-Host Interactions;
- Identification and development of novel broad spectrum antiviral agents.
Experimental models currently employed in the laboratory include: Human and Murine Cytomegaloviruses (HCMV, MCMV), Herpes simplex 1 and 2 (HSV-1, HSV-2), Influenza A and B viruses, Respiratory Syncitial Virus (RSV), human coronaviruses hCOV-OC43 and hCoV-229E.
Major topics and current projects:
Structure and functions of HCMV-encoded Ca2+-conducting viroporins
Structure and functions of HCMV proteins that regulate virus cell tropism
Structure and functions of HCMV-encoded transcription factors
Virus-host cell interactions in HCMV and HSV models
Mechanisms of herpesviral-induced dysregulation of host cell gene expression
Mechanism of herpesvirus-mediated evasion of intrinsic and innate immunity
Discovery and development of new host-targeting antiviral (HTA) molecules against human respiratory viruses
Discovery and development of new direct-acting antiviral (DAA) agents against human respiratory viruses
Further information can be found in the LMV website: https://lmvunito.wixsite.com/website
Research groups
Research projects
Office hours
Su appuntamento telefonico o via e-mail.
Thesis, work placement and internship offers
Attività Istituzionali:
Referente AQ di Dipartimento. In tale ruolo supporta il monitoraggio interno dei processi di Assicurazione della Qualità in capo al Dipartimento e coordina il Gruppo di Lavoro AQ del Dipartimento.
Presidente Comitato COVID Polo Scienze della Natura
Componente della Commissione Monitoraggio e Riesame e del Comitato di Indirizzo e Consultazioni Parti Sociali del Corso di Laurea in Scienze Biologiche